Sea Save Foundation has been working for twenty years to protect ocean futures. To be successful we need to educate the general public as well as local and international decision-makers about marine biology, current challenges and we must present economically feasible solutions.
Sea Save Foundation is proud to join 150 other organizations in support of the Ocean-Based Climate Solutions Act that will leverage the ocean in the fight against climate change. Below is the text of the letter that was submitted to United States leaders.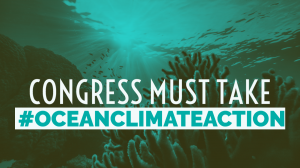 December 14, 2020
The Honorable Nancy Pelosi
Speaker
U.S. House of Representatives
H-204, United States Capitol
Washington DC, 20515
The Honorable Kevin McCarthy
Minority Leader
U.S. House of Representatives
H-204, The Capitol
Washington DC 20515
The Honorable Mitch McConnell
Majority Leader
U.S. Senate S-230, The Capitol
Washington DC 20510
The Honorable Chuck Schumer
Minority Leader
U.S. Senate S-221, The Capitol
Washington DC 20510
Dear Speaker Pelosi, Minority Leader McCarthy, Senate Majority Leader McConnell, and Senate Minority Leader Schumer:
We are facing a climate emergency. The ocean is literally taking the heat from climate change, absorbing over 90% of the heat and nearly a third of the carbon dioxide from greenhouse gas emissions. But the ocean is not just a victim of climate change. It's also a powerful source of solutions that have the potential to provide a fifth of the greenhouse gas emission reductions needed globally to limit temperature rise to 1.5°C. The ocean, therefore, will be key to a larger suite of natural solutions needed to confront the climate crisis. The undersigned organizations are writing to express our strong support for ocean climate action and the inclusion of ocean-based solutions in any larger climate legislation.
The Ocean-Based Climate Solutions Act of 2020, sponsored by House Natural Resources Committee Chair Raúl Grijalva, is comprehensive and ambitious legislation that seeks to leverage the ocean's potential in the fight against climate change by permanently protecting our coasts from offshore drilling, promoting offshore renewable energy, protecting blue carbon, supporting climate-ready fisheries, expanding marine protected areas, improving ocean health, and more. By implementing a full suite of ocean-based climate solutions, this legislation would help frontline communities most at risk in the face of climate change, increase the resilience of our ocean ecosystems, and help put the United States back in a leadership role in the global effort to fight the climate crisis. Specifically, the bill will:
Reduce Greenhouse Gas Emissions
The bill supports the transition to a clean energy economy by reducing greenhouse gas emissions associated with ocean sectors through increasing ocean-based renewable energy while
establishing permanent protections from all new offshore oil and gas drilling and harmful seismic airgun blasting in unleased areas of the Outer Continental Shelf. This will help us to move away from fossil fuels and protect the ocean and coastal habitats that are important to healthy fish, marine wildlife, and coastal economies.
Increase Carbon Storage in Blue Carbon Ecosystems
The bill recognizes the carbon storage potential and other co-benefits provided by "blue carbon" ecosystems like salt marshes, sea grasses, and mangroves. These ecosystems absorb carbon dioxide out of the atmosphere and safely store it at a rate of up to four times that of forests on land. They also protect coastal communities by limiting the impacts of coastal erosion, flooding, and storms—all while providing habitat for marine wildlife and fisheries.
Promote Coastal Resiliency
The bill promotes coastal resiliency and adaptation to protect our coasts and communities from the climate impacts we can't avoid. It mandates the establishment of a strategic task force to coordinate federal efforts around voluntary relocation. It also authorizes investment in coastal restoration and resilience that is a win-win-win for our economy, our frontline communities, and our environment.
Improve Ocean Protection
The bill takes steps to promote and protect healthy ocean systems and wildlife populations, which are better able to adapt to the effects of climate change by setting a goal to protect at least 30% of our ocean by 2030. Marine protected areas, like our protected areas on land, are a key part of protecting biodiversity while tackling climate change – which is more critical than ever in the face of the biodiversity crisis.
Support Climate-Ready Fisheries
The bill supports the development and implementation of strategies to improve the management of fisheries in a changing climate and also helps to promote U.S. seafood sourced from environmentally and climate-friendly fisheries.
Tackle Ocean Health Challenges
This bill addresses ocean health challenges of ocean acidification and harmful algal blooms, both of which cause significant harm to the U.S. seafood, recreation, and tourism industries, as well as human communities and ocean wildlife and ecosystems.
Restore U.S. Leadership in International Ocean Governance
The bill strengthens U.S. leadership in international ocean governance at a time when transboundary pressures on our ocean demands a coordinated response. These actions would both strengthen U.S. security and promote a resilient global ocean for the 21st century.
The Ocean-Based Climate Solutions Act would bolster frontline communities most at risk from climate change; increase the resilience of ocean ecosystems, and put the United States back in a leadership role in the global effort to fight the climate crisis. We urge you to act quickly to implement the measures detailed in this legislation–before it's too late.
350 Maine
AFGE Local 704
Alaska Wilderness League Action American Littoral Society
Animal Welfare Institute
Audubon of Southwest Florida
Audubon Society of Lincoln City
Azul
Biscayne Bay Marine Health Summit Blue Frontier
Blue Ocean Society for Marine Conservation
Blue Scholars Initiative
Boulder Environmental Nature Outdoors Film Festival
California League of Conservation Voters Californians for Western Wilderness Cape Falcon Marine Reserve
Center for American Progress
Center for Biological Diversity
Center for the Blue Economy
Cetacean Society International
Climate Law & Policy Project
Climate Reality Project
Coastal Conservation League
Colorado Ocean Coalition
Colorado Ocean Coalition, CU Chapter Coney Island Beautification Project, Inc. Conservation Law Foundation Conservation Voters of South Carolina Coral Vita
Debris Free Oceans
Defenders of Wildlife
Defensores de la Cuenca
Destructive Fishing Watch Indonesia EarthEcho International
Earthjustice
Echotopia LLC
Endangered Species Coalition Environment America
Environment California
Environment Colorado
Environment Connecticut
Environment Florida
Environment Georgia
Environment Illinois
Environment Maine
Environment Massachusetts Environment Michigan
Environment Minnesota
Environment Missouri
Environment Nevada
Environment New Jersey
Environment North Carolina Environment Oregon
Environment Texas
Environment Virginia
Environment Washington Environmental Defense Center Environmental Law & Policy Center Environmental League of Massachusetts Fenceline Watch
Florida Bay Forever Save Our Waters Inc. Friends of Casco Bay
Friends of Governors Island
Friends of Herring River
Friends of the Mariana Trench Gotham Whale
Great Old Broads for Wilderness GreenLatinos
National Ocean Protection Coalition National Parks Conservation Association National Wildlife Refuge Association Natural Resources Council of Maine
Natural Resources Defense Council (NRDC) New England Aquarium
New York League of Conservation Voters New Jersey Audubon
Northern Alaska Environmental Center Nuclear Information and Resource Service NY4WHALES
Ocean Conservation Research
Ocean Defense Initiative
Ocean River Institute, Inc
Ocean Visions
Oceana
Oceanic Preservation Society
Pacific Environment
Patagonia
PennEnvironment
Plastic Pollution Coalition
REEF LIFE FOUNDATION
Reef Life Restoration Nanoscience
Rescue a Reef Program
Restore America's Estuaries
Sachamama
Sanctuary Education Advisory Specialists SEAS
Sanibel-Captiva Conservation Foundation Save Our Shores
Save the Manatee Club
Save the Sound
Sea Save Foundation
Seven Circles Foundation
Shedd Aquarium
ShoreLock LLC
Sierra Club
South Florida Audubon Society
South Florida Wildlands Association
South Shore Audubon Society
Greenpeace USA Hannah4Change
Healthy Oceans Coalition Heirs To Our Oceans Hispanic Access Foundation Inland Ocean Coalition Inland Ocean Coalition Inland Ocean Coalition Inland Ocean Coalition Inland Ocean Coalition Chapter
Inland Ocean Coalition Chapter
Inland Ocean Coalition Inland Ocean Coalition Inland Ocean Coalition Inland Ocean Coalition Inland Ocean Coalition Chapter
Inland Ocean Coalition
International Fund for Animal Welfare International Marine Mammal Project of Earth Island Institute
League of Conservation Voters
Maine Conservation Voters
Marine Conservation Institute
Marine Mammal Alliance Nantucket Maryland League of Conservation Voters Mighty Earth
Nassau Hiking & Outdoor Club
National Aquarium
National Audubon Society
Alaska Chapter Arizona Chapter Buffalo Chapter Central Texas
CSU Fort Collins
Great Lakes Chapter Montana Chapter North Texas Chapter Utah Chapter Washington, D.C.
Surfrider Foundation
Sylvia Earle Alliance / Mission Blue
TAO: Tethra Advisors and Officers-the Blue Economy and Blue Technology Consultancy The Last Plastic Straw
The Ocean Project
The Rewilding Institute
The Whale Guitar Project
The Wilderness Society
Tropical Audubon Society
Uncas Consulting
Vermont Conservation Voters
Vermont Natural Resources Council Virginia Aquarium & Marine Science Center
Washington Conservation Voters Washington Environmental Council Waterfront Alliance
Whale and Dolphin Conservation WILDCOAST
Wildlands Network
Wisconsin Environment
Women Working for Oceans – W2O
World Wildlife Fund
WSL PURE