1. Cosco Refuses to Ship Shark Fins
This week, the Chinese Ocean Shipping Company or Cosco took a pledge against shipping products for the shark finning industry! This action was taken after 880 kgs of shark fins were found on a ship arriving from Panama. Both Cosco and Maersk, two of the four largest container operators, have now banned shark fin products on their boats. This makes up 68% of the industry. According to the World Wildlife Fund, " Hong Kong imports over 50% of shark fins being traded in the industry and of that 92% are imported by boat".  This ban is yet another significant act to reduce international shark fin trade! Read more…
2. New Species of Beaked Whale Confirmed by DNA
Scientists revealed a new species of dolphin in a publication in Marine Mammal Science.  The scientists used specimens from museums and remote Arctic islands to identify a rare new species of beaked whale. The whale ranges from northern Japan across the Pacific Ocean to Alaska;s Aleutian Islands. DNA analysis from 178 beaked whales from around the Pacific Rim found with known examples of the new species. One of the specimens was a skeleton on display in an Alaska high school! The species is most closely related to the Arnoux's beaked whale from the Southern Hemisphere. A name for the new species of  beaked whales has not been finalized. Read more…
Credit: Don Graves
3. Some Fish Tackle Ocean Warming by Pretending it's Night!
A new study of spiny damselfish reports that the fish that have best adapted to the high carbon levels in the water have flexible body clocks that help adapt to acidification. According to one of the authors of the study, Timothy Ravasi, "it seems the tolerant offspring may have adjusted their circadian clocks as if it was always night". Fish generally adapt their bodies every day because levels of carbon dioxide in the ocean peak at night and drop during sunlight hours when aquatic plants absorb the carbon dioxide.  Read more…
4. What is that Mysterious Purple Orb?!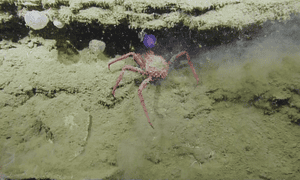 Scientists on the exploration ship E/V Nautilus found a small purple orb while exploring an underwater formation west of the Channel Islands. The organism was 5cm with a foot and rhinophores. The strange glow was an effect of the lighting of the submersible and it was not bioluminescent. Samples have been sent to the Harvard Museum of Comparative Zoology to help confirm the new species. The E/V Nautilus has worked to map and explore the Channel Islands which spans 1,470 square miles of ocean. The team has found many new structures and habits during their study but this is the first new species discovered.   
Read more…
Photo Credit: OET/Nautilus live
5. US to Crack Down on Ocean Noise
Increases in international shipping and oil drilling have been two major contributing factors to ocean noise pollution. The National Oceanographic and Atmospheric Administration (NOAA) fisheries agency has drafted a proposal to establish noise limits with a standardized listening system. Collecting this data would be used to cross-reference against data on where marine life congregates. Increased noise in the ocean will impact marine communication, hunting, and navigation. Many oil companies have invested in quieter technology and ship noise was reduced under the United Nations' International Maritimes Organization voluntary guidelines in 2014.  Read more…
Sea Save Foundation is committed to raising awareness of marine conservation. The Week in Review is a team effort produced by the Sea Save staff to provide a weekly summary of the latest in marine research, policy, and news.