1. Let's Blow Up Some Poachers, Indonesia Maintains Stance on Illegal Fishing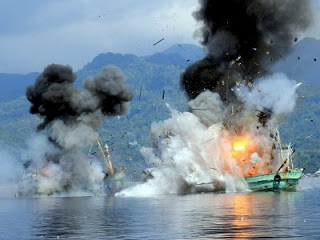 Since the start of the year, Indonesia has sunk 53 foreign fishing boats violating its territorial waters. The Minister of Maritime Affairs and Fisheries Susi Pudjiastuti has announced that Indonesia will continue to maintain the tough measures against fishing vessels that violate the territory. Indonesia's punishment for captains and chief mechanics on these ships are six months to four years in prison. Local authorities will work to help fishermen get a better understanding of Indonesian laws. Read more…
2. End of Bering Sea Crabs? Research Points to Alarming Possibility
That's right, we may be saying goodbye to the Bering Sea crab in just 20 years! Results from a two year researcher project has revealed that baby Tanner crabs show that higher ocean acidity affects their shell production and immune system. According to the project leader Bob Foy, the full reproductive development of the female crabs occurred in acidified conditions. Issues rose in the young crabs during the second year of acid exposure. During the second year, the tiny crabs' ability to molt was impacted. With the continued increased in ocean acidification, it is possible that once the pH level hits 7.5 to 7.8 the crab stocks will begin a countdown. According to the study, the countdown could be just a 20 year period of time. Read more…
2. Rare Megamouth Shark Caught in Japan
This week, an extremely rare megamouth shark was caught in fishing nets near Owase Port in Mie Prefecture, located in the southern-central region of Japan's main island. The megamouth shark was approximately five meters in length. The first sighting of this species was in 1976 and there have only been 60 confirmed sightings since discovery. Read more…
3. Australia Places Bans on Microbeads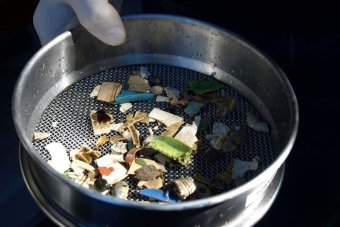 P

lastic pieces that were found in a bird's stomach
First the United States and now, the Australian Senate committee has called for a immediate ban on microbeads and single-use plastic bags! The Senate has asked that if the states do not place these regulations the Federal Government must step in. The Federal Government has stated that if voluntary measures to phase out microbeads did not work, it would take action to ban them next year. Read more…


5. Why We Should Celebrate the World's Oceans This Earth Month


Our oceans cover 72% of the planet and serve as a key regulator of climate. In honor of Earth Day, Time published a nice synopsis of all of the government projects that have made impressive steps forward in protecting the world's oceans. A number of international projects are summarized in the article. According to Time, "even with these latest positive steps, only about 2% of our ocean is protected in marine parks, far short of the 30% scientists say is needed to help the ocean remain healthy enough to meet the demands we place on it".  Read more…
5. Invasion of the Zombie Ghost Crab Hoards – Really!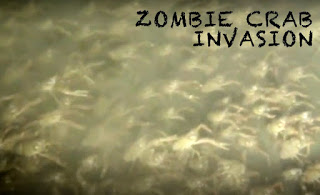 In the murky depths of Panama's Pacific Coast, marine biologists were able to record this clip.  The fact that it comes from the Hannibal Bank Seamount, just makes it more eerie.  This is really fun stuff and it is actually real.  Who knows what other unbelievable scenarios await human discover beneath our oceans' surfaces. Watch the movie – you will love it!  Then Read More


Be sure to "LIKE" http://facebook.com/SeaSave to ensure our "Week in Review" is delivered to your newsfeed every Thursday. 
Sea Save Foundation is committed to raising awareness of marine conservation. The Week in Review is a team effort produced by the Sea Save staff to provide a weekly summary of the latest in marine research, policy, and news.