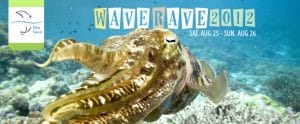 Your Oceans Need You!
Global Wave Rave – August 25 & 26, 2012
What is a Wave Rave?
Wave Rave is a global event and joining of people around the world as we unite for a common purpose – to celebrate with friends and family the beauty and importance of our oceans and to help stop shark finning and poaching by supporting Sea Save Foundation.
Your event can be large or small; it does not need to be elaborate as long as it's fun and celebrates the oceans. Invite your families, friends, colleagues and co-workers, club or group members, gym and spa buddies, Facebook friends, Twitter followers, etc., to either participant in your event or host their own. Every one of us a network of friends across the globe so please invite them; the more the merrier!   In order to make a real difference, we must gather support from people of all political, religious and national affiliations.
Some ideas for a Wave Rave include:
Beach cleaning events.
Surfing events.
Diving events.
BBQ's or dinners with family or friends.
Local bar events/parties.
Local school presentations.
Or simply a toast with family or friends to the oceans!
Or join an already hosted Wave Rave. Check the Wave Rave Facebook page for locations holding Wave Raves and post that you're looking to attend an event. You can also ask your local dive shop or club, check on Meetup, Twitter (#WaveRave) or other online communities.
Just a few of the scheduled events include:
Even Cocos Island manager Geiner Golfin is hosting a Wave Rave at Cocos Island!
People are diving, having dinner parties, house warming parties, cocktail parties, ocean photo sharing parties, Reike days, cake sales, quiz nights, kite flying, selling ocean decorated cupcakes, and more!
What have you done for your oceans lately?
We hope that on August 25 and 26, 2012 you will join people around the world, united in their celebration and support of the oceans to help stop shark finning and stop poaching. Make sure to take pictures and video and share with Sea Save. We want to see how you celebrate the ocean.
Watch this great video by Erick Avari and be inspired to help our oceans!
For more information visit the Wave Rave web page. To register as a host or find a local Wave Rave visit the Wave Rave Facebook page or email Lynda at [email protected].