Japan may dump Fukushima radioactive water into the Pacific, Marshall Islands declare national climate crisis, Methane flares in Siberian Sea, Climate change threatens bird populations and more…
1. Japan considers dumping radioactive water from the Fukushima reactor into the Pacific Ocean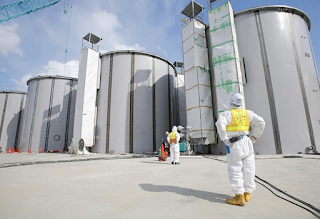 Tepco is considering a plan to dump roughly 1 million cubic meters of treated radioactive water — enough to fill 400 Olympic-size swimming pools — from the wrecked Fukushima Dai-Ichi nuclear power plant into the Pacific Ocean, part of its nearly $200 billion effort to clean up the worst atomic accident since Chernobyl. Storage tanks at the site are forecast to be full by mid-2022, and space for building more is scarce. Scary as it sounds, discharges are common practice in the industry and would likely meet global guidelines. 
                                              ———————————————      


2. The Marshall Islands declare national climate crisis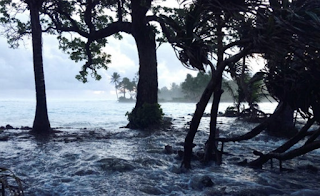 The Republic of the Marshall Islands, one of the lowest-lying island nations in the world, has declared a national emergency over climate change. The country's president, Hilda Heine, tweeted the news Friday, blaming the international community for not acting quickly enough to mitigate global warming "of its own making." "Our parliament has officially declared a national climate crisis. As one of only four low-lying coral atoll nations in the world, the failure of the international community to adequately respond to the global climate crisis of its own making holds particularly grave consequences," she tweeted.
3. Hundreds of bird species face extinction due to climate change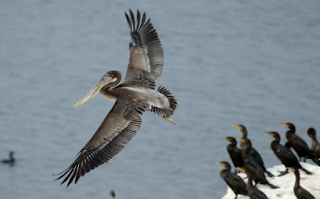 Nearly 400 species of North American birds are threatened with extinction due to climate change, according to a study released Thursday. 
The greater sage grouse, Florida scrub-jay, and Baltimore oriole are among the 64 percent of bird species in North America that are highly vulnerable to climate change, according to the report by the National Audubon Society. 
As global temperatures rise, birds become more susceptible to problems arising from climate change, according to the report. 
The threatened bird species grow from 54 percent at 2 degrees Celsius global temperature rise to 63 percent for a 3 degrees Celsius increase.
4. Methane flares 'boiling' in the Siberian Sea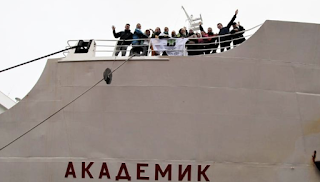 Igor Semiletov, the chief scientist aboard a vessel carrying 65 scientists on a 40-day research voyage recently discovered methane in the air over the East Siberian Sea up to nine times the global average. Methane is a powerful greenhouse gas, with a significantly greater global warming potential than carbon dioxide, according to NASA. The methane emissions in the Arctic, fueled by the melting of permafrost on the sea floor, are one driver of climate change, NASA said. The emissions are presenting a growing risk. Methane levels Semiletov's team found in the air above the seawater were "extremely high," he said. "Nobody has detected these concentrations and this goes beyond geopolitical considerations. We need to think about how to combine our efforts to study this because it affects everyone."


                                           ———————————————–  


5. White House: Climate change won't be on agenda when the U.S. hosts G-7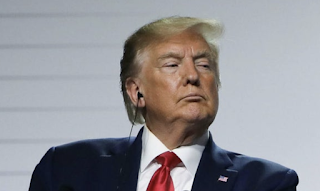 Climate change will not be on the agenda at next year's Group of Seven (G-7) summit hosted by the United States, acting White House chief of staff Mick Mulvaney said Thursday. 
Mulvaney announced that Trump National Doral near Miami would host the gathering of world leaders from June 10-12, 2020. "Climate change will not be on the agenda," Mulvaney said when asked whether the topic would be on the docket for the summit. Doral is located just outside Miami, a city that is expected to face acute consequences from the warming planet. Rising sea levels have led to increased flooding there, and consistently hotter temperatures will mean that the June summit will likely take place in scorching conditions.

6. Coca-Cola creates world's first bottle from recycled ocean plastic waste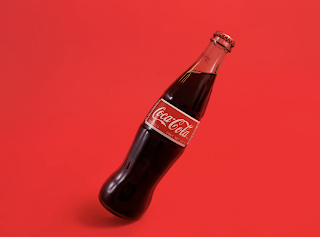 The world's first bottles made from recycled marine plastics have now become a reality via a project led by Coca-Cola. The soft drinks mega-brand worked with Ioniqa Technologies, Indorama Ventures and Mares Circulares (Circular Seas) to collect the litter used for the bottles. It involved 84 volunteer beach cleanups in Spain, Portugal, and 12 other ports across the Mediterranean Sea. According to a press release, 300 sample bottles — which were produced using 25% recycled marine plastic — demonstrate how "someday, even the most degraded plastic from the seabed can be converted into new bottles for use."
7. California bans small plastic bottles in hotels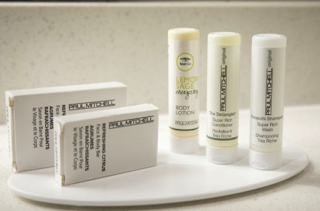 California Gov. Gavin Newsom (D) announced Wednesday that he signed the legislation into law banning hotels from distributing small plastic bottles to guests filled with personal products like shampoo, conditioner or soap.  
The ban will take effect on Jan. 1, 2023, for hotels with more than 50 rooms, and it will take effect one year later for hotels with fewer than 50 rooms. "Small plastic bottle" is defined as a plastic container with less than a 6-ounce capacity, according to the new law. 
Violators can be fined $500 for a first offense and $2,000 for further violations.
Sea Save Foundation is committed to raising awareness of marine conservation. The Ocean Week in Review is a team effort produced by the Sea Save staff to provide a weekly summary of the latest in marine research, policy, and news