Offshore drilling banned in New York, Over 200,000 viruses found in ocean, Ocean losing carbon storage efficiency as temperatures climb, Russian whale spies, UN conference on minimizing plastic waste, Drone footage of polluted South African beach and more…
1. 
N.Y. Bans Offshore Drilling 
New York State has banned offshore oil and natural gas drilling along its Atlantic coastal waters in an effort to block a federal proposal. Gov. Andrew Cuomo signed legislation (A.2572/S.2316) on April 29 that bars state agencies from granting permits for drilling or oil or gas exploration on state-owned underwater coastal lands. The law, effective immediately, also prohibits the leasing of land that would lead to an increase of oil or natural gas production from federal waters.


2. Nearly 200,000 never-before-seen viruses found deep in ocean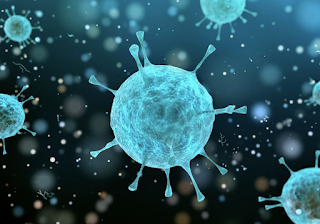 Never-before-seen viruses have been discovered hidden deep in the ocean. Almost 200,000 of the infectious pathogens were found during a global marine life expedition, which took over 10 years to complete. Most of the viruses are harmless to humans but can infect marine life, such as whales and crustaceans. The findings were published in the journal Cell.


3. Warmer temperatures reduce the ocean's ability to store carbon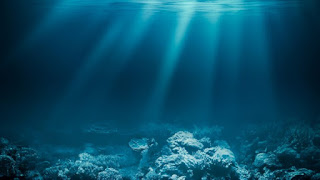 According to researchers from the Lamont-Doherty Earth Observatory at Columbia University, the process of CO2 regeneration could speed up as oceans warm, which could limit the amount of CO2 stored in ocean depths. CO2 regeneration begins when photosynthetic plankton at the ocean surface ingest carbon. They then die and sink to the bottom of the ocean, bringing some of that carbon with them, which will eventually be buried on the ocean floor. However, before some of these photosynthetic plankton have a chance to sink, they are eaten by aerobic bacteria, which take in oxygen and expel CO2, thus spewing regenerated CO2 back into the air.
4. Whales trained by Russia's military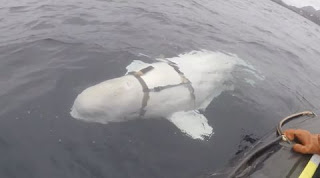 Norwegian fishermen and scientists say a white whale wearing a strange harness that harassed boats in the Arctic recently may have been trained by Russia's military. Russia has previously acknowledged training sea mammals for special operations in the frigid Arctic, where the country has a major military base not far from the territory of key NATO member Norway. 
According to Britain's The Guardian newspaper, Norwegian state broadcaster NRK reported the unusual behavior of the animal last week and showed video of the beluga whale swimming alongside a fishing vessel and repeatedly nudging it.
5. UN conference to consider plan to minimize plastic waste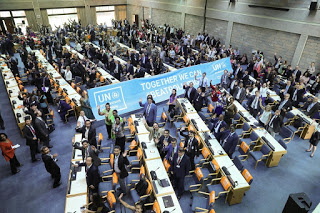 GENEVA (AP) — Over 180 countries have opened a U.N.-backed conference on waste and hazardous chemicals amid hopes it could produce a sweeping agreement toward minimizing generation of plastic waste, which has formed a gigantic mass of litter floating in the ocean. Rolph Payet of the United Nations Environment Program says he hasn't heard "any serious objections" among participants in the two-week Geneva conference starting Monday to a proposal issued last year by Norway, which also aims to improve management of plastic waste flows between countries.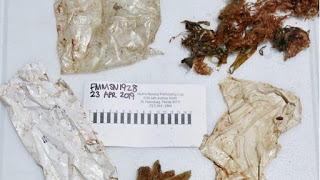 MIAMI (CNN) — The recent death of a young dolphin found with trash in its stomach highlights the need to reduce single-use plastic and to not release balloons into the environment, the Florida Fish and Wildlife Conservation Commission says. The female rough-toothed dolphin was found stranded on Fort Myers Beach on April 23 with a piece of a balloon and two plastic bags in its stomach.
7. 
Drone footage shows plastic pollution on beaches in South Africa
Drone footage has laid bare the scale of the plastic pollution on South African beaches, following the deadly floods that hit the province this week. The natural disaster has killed at least 70 people and left many homeless. Swathes of the coastline around the Umgeni River mouth are covered in plastic debris that got washed downstream with the flood waters. "It's absolute chaos out there," Lindsay Hopkins, project director at Breathe Ocean Conservation, told News24 on Thursday.
Sea Save Foundation is committed to raising awareness of marine conservation. The Week in Review is a team effort produced by the Sea Save staff to provide a weekly summary of the latest in marine research, policy, and news