UNESCO World Heritage Site now a plastic desert, Dolphin adopts orphan whale, Guam's coral reefs deteriorate, Indonesia turns away plastics,  Shark tournaments target endangered sharks,  and more

…

1. 

UNESCO World Heritage site now a 'Plastic Desert'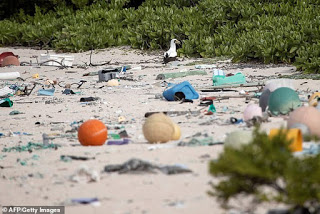 In 1988, Henderson Island became a designated UNESCO world heritage site because of its remarkable biodiversity and long stretches of untouched sandy beaches. Yet, Henderson has some of the highest levels of man-made pollution found anywhere in the world. An estimated 18 tons of plastic rubbish has washed up on Henderson Island, the uninhabited coral atoll that sits between New Zealand and Peru in the Pacific Ocean. The remote island should be an unblemished and perfect paradise because of its isolation, with 3,400 miles (5,500 km) of pure ocean in either direction but unfortunately, that isn't the case.
2. S
cientists document first known case of dolphin adopting an orphan from another species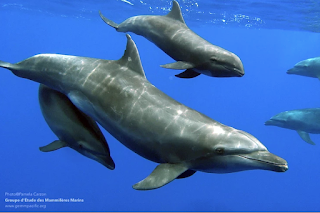 Until recently, the only scientifically documented case of interspecies adoption among wild mammals dated to 2006, when primatologist Patrícia Izar spotted a group of capuchin monkeys raising a baby marmoset as one of their own. 
Now, a new study published in the journal Ethology offers a second example of the rare phenomenon. 
This apparent adoption, unusual in and of itself, was made all the more striking by the fact that the bottlenose already had a biological baby; typically, dolphin mothers only care for one calf at a time.
3. 
Rising ocean temperatures have killed one-third of Guam's coral reefs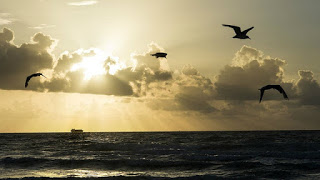 Rising ocean temperatures have killed one-third of coral reefs near Guam, University of Guam researchers said Monday. Their study found that between 2013 and 2017, Guam experienced warm water that killed off 34 percent of coral. "Never in our history of looking at reefs, have we seen something this severe," Laurie Raymundo, UOG marine lab director, and marine biology professor, said during a press conference, according to the Pacific Daily News. "The highest temperatures we've ever recorded in Guam happened in 2017," she added. "Right now, the best way to stop bleaching is to lower our carbon footprint."



4. Indonesia joins a growing list of countries planning on turning away First World refuse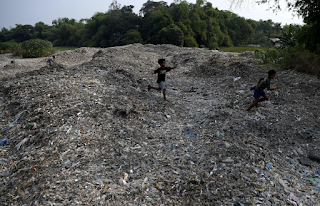 Indonesia plans tighter rules to combat a surge in imports of plastic waste, such as a registry of trash exporters and tougher border checks, officials said on Friday. Data from the statistics agency showed imports of plastic waste rose 141% last year to 283,000 tonnes after a ban by China disrupted the annual global flow of millions of tonnes of waste. Trade official Oke Nurwan said Indonesia had notified 15 countries, home to key exporters, of the new checks. "If not from a registered exporter, we will not issue a permit (for imports)," Nurwan, the director-general of foreign trade at the trade ministry, told reporters.
5. A global assessment of marine heatwaves and their drivers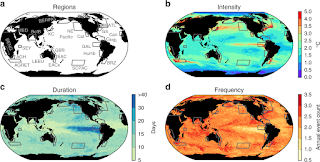 Marine heatwaves (MHWs) can cause devastating impacts to marine life. Despite the serious consequences of MHWs, our understanding of their drivers is largely based on isolated case studies rather than any systematic unifying assessment. Here we provide the first global assessment under a consistent framework by combining a confidence assessment of the historical refereed literature from 1950 to February 2016, together with the analysis of MHWs determined from daily satellite sea surface temperatures from 1982–2016, to identify the important local processes, large-scale climate modes and teleconnections that are associated with MHWs regionally.
6. CITES protected sharks caught during fishing tournament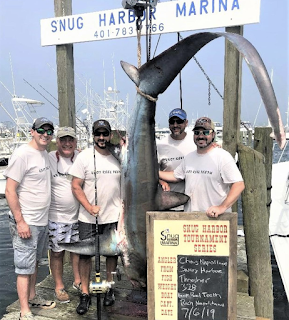 This is an example of one of many shark tournaments that exist despite regulations to protect these animals. A 328-pound thresher shark was caught in a Rhode Island fishing tournament that took place in July. Richard Napolitano recounts the battle saying "w
e fought the shark for an hour and 45 minutes." The CITES protected shark won first place in the 38th annual Snug Harbor Shark Tournament. 
Napolitano was quick to point out that his sportfishing vessel, "Knot Reel Teeth," successfully caught, tagged and released five other mako and blue sharks during the tournament, as they normally do.  
7. Scottish conservationists seek backing to create the world's first protected area for basking sharks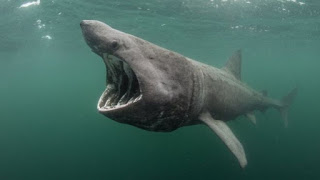 Scotland could be the location of the world's first protected area for basking sharks, say conservationists. 
Large groups of the fish gather in the Sea of the Hebrides from May to October to feed on plankton. 
The Scottish Wildlife Trust and Marine Conservation Society want part of the sea to be designated a marine protected area (MPA). 
The Scottish government is consulting on the plan and the groups have urged the public to show support. 
Three other proposed MPAs – North-east Lewis, Shiant East Bank, and Southern Trench – are also the subject of government consultation.
8. Irish teen may have found a new clue – plastic-free ocean
A young Irish scientist may have found a way to rescue our oceans from the growing plastic pollution problem. A walk on the beach led Fionn Ferreira to develop his project on microplastic extraction from water for the annual Google Science Fair. The project won the grand prize of $50,000 in educational funding at this year's event. The 18-year-old said that while he was out on that walk in his coastal hometown of Ballydehob, he ran across a stone with oil and plastic stuck to it — something he says he's become more aware of in recent years.
9. Beverage giants plan to sell water in recyclable plastic bottles made from lumber scraps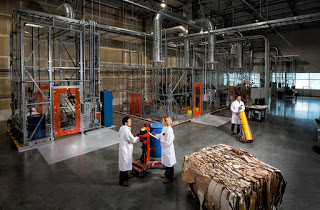 A technology startup near Ontario's leafy border with Michigan says it has the answer to the world's plastic pollution problem: sawdust. 
Origin Materials is getting ready to pay sawmills in the area $20 a ton for the scraps leftover in the process of turning logs into lumber, which it will use to make recyclable plastic bottles that remove carbon dioxide from the sky because they're made from sustainably sourced wood waste. Nestle SA, Danone SA, and PepsiCo Inc. plan to sell water in Origin's recyclable plant-based bottles in early 2022.
Editorial Note: 
This is still a plastic bottle. It may be less plastic, but it is not a perfect solution.
10. Climate activist Greta Thunberg delivers speech before French Parliament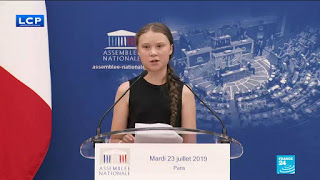 Swedish environmental activist Greta Thunberg, 16, spoke before France's lower house of parliament Tuesday as she continues her campaign for action on climate change. French conservative parties denounced her appearance as an emotional ploy. Swedish teenage climate activist Greta Thunberg hit back at critics as she visited the French parliament on Tuesday following outraged comments from some right-wing MPs who have slammed her presence. "Some people have chosen not to come here today, some have chosen not to listen to us. And that is fine. We are, after all, just children," said Thunberg.
11. Indonesia's PT Pertamina intensifies efforts to clean up Java Sea after oil spill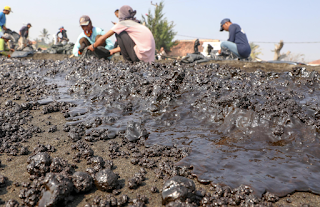 Indonesia's state energy firm Pertamina said on Thursday it will take weeks to plug an oil spill at its Offshore North West Java (ONWJ) facility, which has reached the northern coast of Java island. The incident started on July 12, when natural gas was released during drilling at one of its wells in the ONWJ platform on the Java sea, Pertamina's upstream director Dharmawan Samsu told a news conference. Three days later the company declared an emergency and on July 16, a layer of oil began to rise to the surface of the sea in addition to the gas bubbles, he said. 
12. Singapore's ocean tankers to cut down on sulfur emissions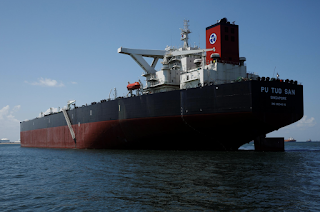 Off the coast of Singapore, the world's largest ship refueling center, a bunker barge sidled next to the supertanker Pu Tuo San to fill the giant vessel with a new type of fuel that will meet global standards that start up in January. 
With a little over five months left until stricter marine fuel rules come into effect, shippers such as Singapore's Ocean Tankers that own the very large crude carrier (VLCC) Pu Tuo San have started testing out lower sulfur fuel to prepare their fleet for the transition. M
oving forward sulfur emissions will be cut down from 3.5% to .5%.
13. 
First big U.S. offshore wind project in deadlock due to fishing-industry concerns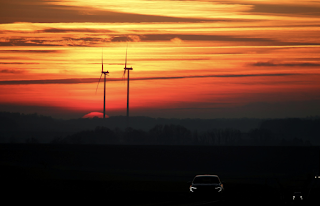 Trump administration infighting is holding up approval of the first major U.S. offshore wind energy project, with agencies sparring over whether the proposal does enough to protect the fishing industry, according to interviews and agency documents. The delays are a setback to President Donald Trump's efforts to fast-track big energy infrastructure projects and could threaten the administration's plans to launch a promising new domestic industry.
Sea Save Foundation is committed to raising awareness of marine conservation. The Ocean Week in Review is a team effort produced by the Sea Save staff to provide a weekly summary of the latest in marine research, policy, and news