Three and a half years ago, I joined the Peace Corps with the
intention of "following my dream" and helping others discover theirs.
I was sent to a small and isolated community in Costa Rica where I did
everything from teaching English and environmental awareness to
building a playground and multiuse basketball court.
When I was given the opportunity to go to Cocos Island, as a volunteer for a month I thought, "Why not?" as I knew my time as a Peace Corps volunteer would soon end and this opportunity was a once-in-a-lifetime offer.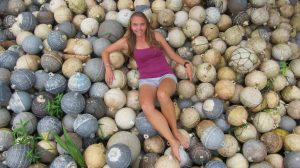 Jessica sits atop buoys harvested from thwarted illegal fishing efforts
Little did I know about Cocos Island… its beauty, its charm, or even
its struggles. As anyone who is unfamiliar with a place, I looked it
up on Wikipedia and choose to be content with its information. I am
going to "the most beautiful place in the world" I was telling my
friends, "a protected National Park." After arriving on the island,
taking some time to enjoy its splendor, and spending a few weeks
working with the park rangers, I can agree with the statement "one of
the most beautiful place in the world," however; I was completely
taken by surprise to learn that this enchanting place was far from
being protected. 
Cocos Island is teaching me man I anticipated
and now I think, "How could I have spent the entirety of
my 28 years unaware of its existence?!" To some, this might sound a
bit ignorant, but I believe that I am not alone and I am not the
exception. It is a shame really, as Cocos Island is magical and
everyday I am surprised by its beauty. It has given me a new knowledge
and perspective on life and on conservation. It has provided me with
opportunities that are now repaving my future plans, as I am now
considering becoming a dive master and studying marine biology and
conservation. As I learn more about the island and its beautiful
inhabitants below and above the sea, the more I realize the dire need
to protect it. At times, we may feel small, powerless and incapable of
changing the world, but…
"Never doubt that a small group of thoughtful, committed people can
change the world. Indeed, it is the only thing that ever has."
~Margaret Meade
Name: Jessica Robinson
Age: 28
From: Colorado Springs, CO USA